FPL6105 - SPECIAL PRICE Medium Sloping Wall BBQ Hut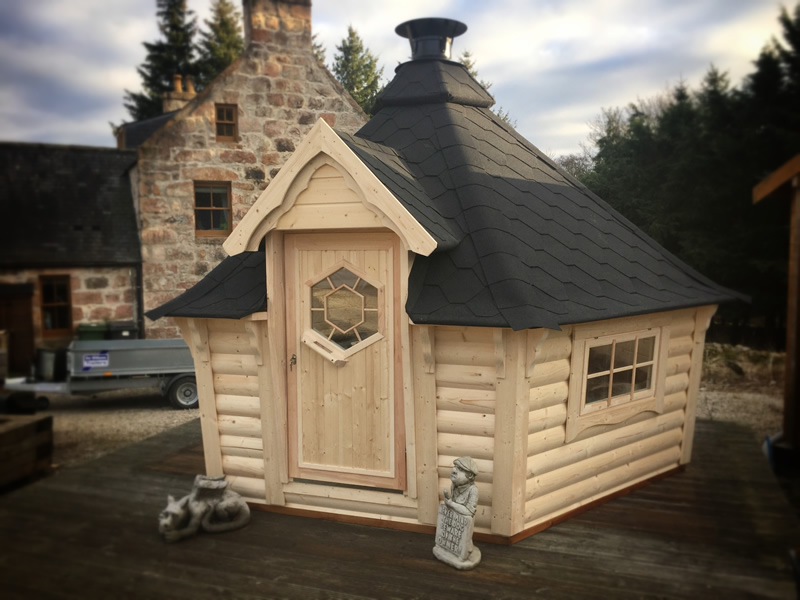 9.2m sloping wall BBQ Hut
Luxury Sloping Wall Barbecue Hut
The 9.2m2 sloping wall BBQ cabin comes fully equipped with the following features as standard:
Shape: Hexagon – 6 corners
Inside area: 9.2m²
Total height: 3.52m
Fits 12-15 people​
Wall, floor, roof panels
Roof covered with bitumen shingles of your selected color (black, green or red)
Standard inside grill with the cooking platforms and a table around the grill
Adjustable chimney
3 double glass windows (1of them opening)
Doors with a lock and a hexagon window
5 inside benches
Choice of blue of brown cushions for the benches
Please note there are other grill and chimney set options available.
Other additional extra options include:
Grill cover (£30)
Drawers (£100 each)
Reindeer Hides (£160 each)
Roof panels with window (£300 each)
Three higher grade BBQ unit options available
The shape is originally a traditional Finnish sauna dating back over one hundred years. Nowadays we in the UK are coupling our love of barbecuing and the great outdoors to make this a very popular choice for those with limited space.
9.2m sloping wall BBQ Hut, the ultimate in luxurious barbecuing
---
We are a progressive forward thinking company and in-line with our policy of continual development and improvement reserve the right to change specifications, designs and prices without notice.