FPL9119 - Leisure Building 610x560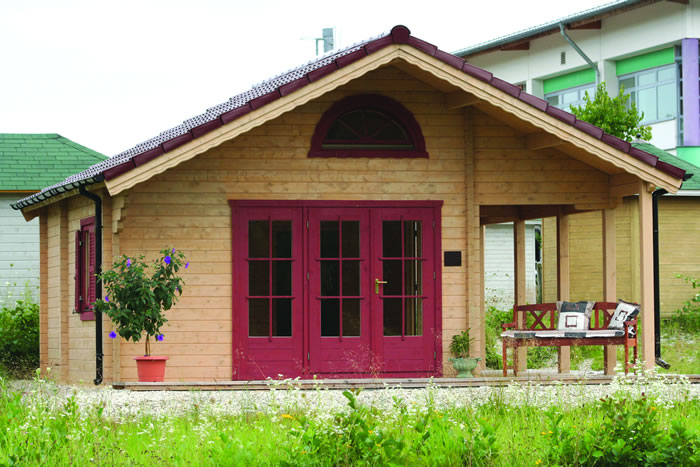 6.10m x 5.60m log cabin
70mm wall thickness complete with 2 full glass double doors and 2 open/tilt windows. ALL fully double glazed.
wall thickness: 70 mm
wall outside dimension: 610 x 560 cm (W/D)
roof overhang: F = 140 cm, B = 40 cm, L = 40 cm, R = 40 cm
side wall height: 245cm, ridge height: 390cm
roof area: 59m², slope: 26 degrees
double doors:2x 160 x 200cm 3/4 glazed
windows: 1x 70 x 200cm fixed, 1x 75 x 88cm, 1x 88 x 88cm, 1x 98 x 98cm
living area: approx. 24m²
terrace: 140 x 610cm / 180 x 560cm
shutters (optional)
All our Bertsch Holzbau log cabins and summerhouses are constructed using premium quality, Scandinavian sourced wood. They are usually available in a variety of wall thicknesses and they are among the best buildings of this sort available anywhere. This level of quality is backed up by a company that has over 20 years experience in supplying quality timber buildings.

Whether it is to be used as a summerhouse, entertainment cabin, home office, extra bedroom or just a quiet place in the garden, you will find our buildings very hard to beat.

Some of the features included in our buildings are...

*Double conical tongue and groove special profiles to ensure higher stability.
Tongue and groove wind-lock system which helps increase protection from the elements.
Easy DIY assembly.
Fully treated foundation supports beams.
Purlin heads at the gable ends have 19mm shielding facings to protect them.
*Roof supports are a minimum of 80mm x 160mm purlins and 19mm tongue and groove roof boards.
Choice of 5 different colours of roof tiles to choose from.
*Internal floors are 22mm tongue and groove boards.
*All windows and doors are double glazed and are fitted with weather strips
Choice of either plain window or georgian bars.
All windows can be fixed or have a German branded, tilt and open mechanism
Door and window hardware include high quality polished aluminium handles.
Choice of either straight or waved facia boards.
Option to fit roof and floor insulation
* Generally this applies to 45mm or thicker walls. Purlin sizes will go thicker as building size increases.
Please note that you can add or change doors and windows to personalise your building. Some pictures may show buildings with non-standard features, such as extra windows, added to the standard configuration. Please check the full description or call us for further information.
---