FPL9426 - Sales Kiosk Cabin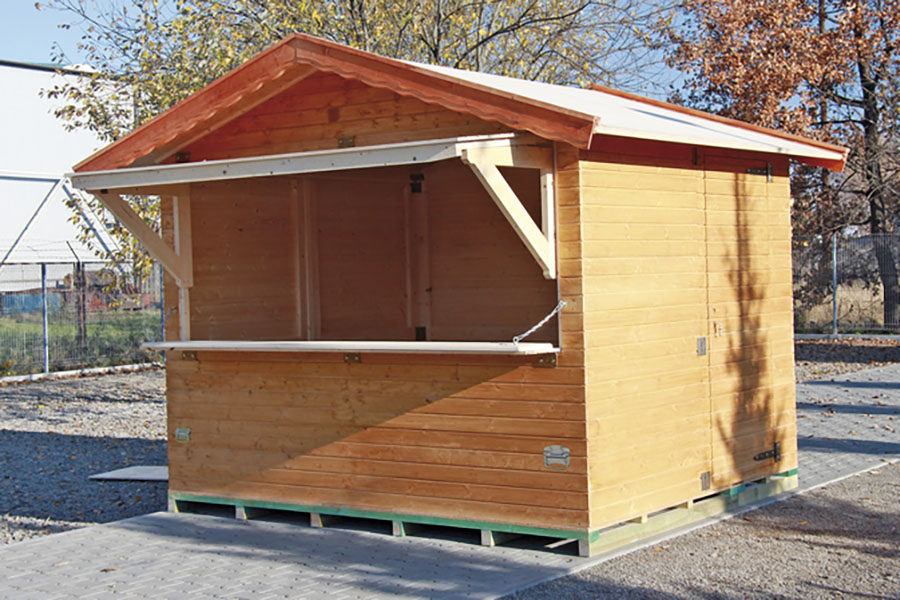 Mobile sales kiosk cabin
The perfect solution for Christmas markets, craft fairs or exhibitions, anywhere you need temporary and moveable sales or demonstration space. Available in apex or pent roof versions.
The aim was to build a sales booth that can be stored with minimum space requirements and also quickly assembled and dismantled. Assembled it is a 3m x 2.5m sales booth, easily closed up for the night or dismantled fully.
Minimum space requirements:
We build the booths so that they do not exceed a maximum depth of 115 cm when folded together. This provides significant advantages for transport because in this way, you can load more booths on a truck and they can be subsequently stored with minimum space requirements.
Quick assembly and dismantling:
The sales booths are fitted with a foldable floor system and have a wall system, which can be opened and closed by pulling or sliding out making them easily transported. Due to this clever system, two people can assemble or dissassemble a complete booth (including roof) in approx. 15 minutes.
Available in a pitched roof or pent roof version with lots of optional accessories including...
Oil impregnation at the factory - £869
Electrical connection with switches and sockets - £396
Galvanized base frame - £1042
Sales counter top inside the fold - £124
Special three-point lock for entrance door - £134
Roofing tarpaulin with hooks for booth - £424
Specifications
Wall thickness: 19 mm
Size: 3.00m x 2.50m (WxD)
Overall Height: approx 2.65m
Eaves height: 2.06m
Roof pitch: 18 degrees
Side roof overhang 30cm
Back roof overhang: 20 cm
Roof / wall area: about 12 m² / 23 m²
Building volume: approx 17 m3
Door: 79cm x 181cm (W x H)
Sales opening: 2.72m x 1.08m (W x H)
Front shelf: approx 87 cm
The cabin is supplied with one external door which can be mounted on the right, left or back side of the cabin. If the back wall option is preffered then there is an additional charge of £90.
Discounts available for multiple items
---