Care and Maintenance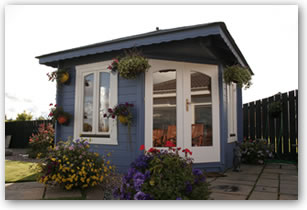 Forest Products can provide you with comprehensive advice on the types and quantities of finishes you will require to complete the installation of your building.
Before applying a colour finish it is important to firstly treat the timber with a good preservative. This helps reduce the risk of blue stain or fungal attack and helps to reduce movement within the timber. A good preservative makes an ideal base for the application of paint or stain colour finishes.

Our recommended products are less harmful to the environment, easier to use, offer quicker drying times and best of all will out perform most solvent based finishes.
If you prefer, the factory can treat your building with all the required coats of stain or paint, this ensures that all the timber, both inside and out, is fully coated with the preservative stain.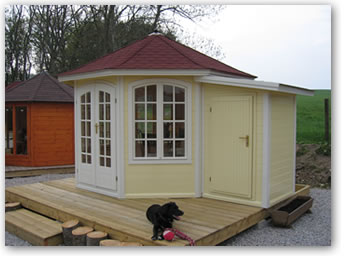 There are several colours available and all windows and doors are sprayed before the glass is fitted, ensuring a very high quality finish.
If you prefer to paint the building yourself, Forest products stock a wide range of paints, stains and preservatives usually available ex-stock. Colour charts are available on request.
Fire retardant treatment for wood
For log cabins that require Euro class B Spread of Flame we recommend HR-Prof.
HR-Prof is a clear water based solution that is absorbed into the surface of the wood. It is easy to apply and has non-flammable properties which restrict ignition and spread of flame. It also offers excellent preservative properties as well and can be fully over-coated with wood treatments as mentioned above.